A Quiet Evening with Monk, Chips on the Side
So. It's Friday night and my last in the captivity of a hospital (I
hope!)
And instead of making an appearance at the
Blue Wisp
and paying respects to the memory of
my late friend, Marjean
, I will be taking to my bed for a long evening of bad cable television options and snacks. There will be no fragrant glass of Cotes du Rhone for me; no warm onion naan to snack on. Instead I find my libation to be just a lonely can of warm Coke Zero and its natural accompaniment, chips. But for this special night, not just any chips, my friend. Chips from as close as I will get to Martha's Vineyard this year:
Cape Cod Old Fashioned Kettle-Cooked Sea Salt and Cracked Pepper Potato Chips
! To quote the company's website: "...the ultimate in gourmet indulgence..." -- and why
not?
They will undoubtedly be the perfect snack for watching the series finale of
Monk,
a show which has definitely grown on me since I've been here.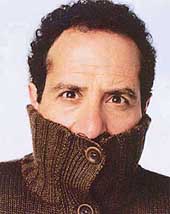 And I am really going to miss him!